An important update on face covering requirements
Dedicated students, distinguished colleagues and dear friends,
The University of Missouri Board of Curators this afternoon voted to extend the current indoor face covering policy for S&T and all other UM System universities through Friday, Oct. 15. The board's action means we will continue to require face coverings in our classrooms, labs and other learning spaces, as well as in other indoor spaces when social distancing is not possible. These requirements will continue to apply to all, whether vaccinated against COVID-19 or not.
In addition to the face covering extension, the board resolution includes an adjustment to guidelines related to athletic and social events. Masks are not required in outdoor settings. For indoor athletic and social events, face coverings are not required for vaccinated individuals, but they are recommended when social distancing is not possible. Unvaccinated individuals are required to wear face coverings indoors or when in areas where social distancing is not possible.
The widespread use of face coverings on our campus has proven to be an important defense against the spread of the virus on our campus. This 30-day extension of our masking requirement gives our campus community an added measure of protection against COVID-19 until we are better able to suppress the spread of the virus.
If you are not yet vaccinated against the virus, I encourage you to please become vaccinated as soon as possible. We are continuing to host vaccination clinics on campus. Our next clinic will be held Wednesday, Sept. 15, from 11 a.m. to 5 p.m. in the Missouri-Ozark Room of the Havener Center.
As I've said many times, a vaccination against COVID-19 is the safest and most effective way to protect yourself, your loved ones and our S&T community. My hope is that through vaccinations, we soon will reach a level of immunity that will allow us to remove our masks once and for all.
Sincerely,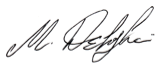 Mo Dehghani
Chancellor