Our campus has never looked better!
Dedicated students, distinguished colleagues and dear friends,
Happy Friday!
We are almost to the finish line of the first week and our campus has never looked better! It is terrific to see all of you again and feel the energy of a full campus. We have learned that there is no substitute for an on-campus, face-to-face environment of learning such as ours. We have endured and survived a challenging year and the resilience and confidence is clearly present. There is confidence in our steps as we resume activities that have been missing or altered over the past several months.
It was such a great feeling to welcome families to S&T. Last year at this time we hoped for a safe return to campus and now we are able to move forward.
And, we have one week behind us. Is it too soon to say the semester is flying by?
We can recognize the value of being together as one community. I feel a sense of pride in seeing our students wear shirts proclaiming "hate doesn't belong here." What a terrific spirit that has been the hallmark of this wonderful university for 150 years. That's right! We are celebrating our sesquicentennial anniversary and have many 150th events planned for the fall.
We are also welcoming the first cohort of our Kummer Vanguard Scholars on campus this fall. The Kummer Vanguard scholarship program is one of many STEM outreach activities that are enabled by Fred and June Kummer's transformational gift to S&T. I encourage you to learn more about the Kummer Institute and about Fred and June Kummer, whose life experiences serve as an inspiration to all of us.
Exciting things are coming our way. You'll notice construction soon as our university's new entrance, the Arrival District, is built. Please bear with us during the growing pains of construction. The end result – a much more aesthetically pleasing and welcoming entry to our wonderful university – will be well worth the inconvenience.
Finally, I strongly encourage you to get "the jab." We know that COVID-19 is a dangerous virus but we know how to deal with it. Given that ours is a close social environment, it behooves us all to protect ourselves and others. So, I ask you to please check out the free vaccination opportunities on campus and in our community and the incentive program for all vaccinated students, faculty and staff. You can find more information on our vaccination webpage.
Welcome again; I'm glad you're here!
Sincerely,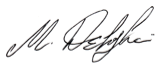 Mo Dehghani
Chancellor
P.S. – New students, please take some time today to learn about the many ways you can get involved in our student organizations during our annual MinerRama involvement fair. This event runs from 11 a.m. through 2 p.m. today starting at the Carney Puck and Plaza.