It's here! After months of preparation, our Fall 2021 semester has begun. I'm thrilled to see so many students on campus once again. Opening Week was a success as we welcomed our newest Miners.
I want to thank everyone who has helped prepare for this day. This includes all who have taken the steps to protect yourself and your community by getting vaccinated against COVID-19. The vaccines are free, safe and effective in preventing serious illness, hospitalization and death. There are still opportunities to get the vaccine at S&T. You can drop by the Carver-Turner Room of the Havener Center from 11 a.m.-5 p.m. this Wednesday, Aug. 25, or learn about other clinics and vaccine sites in the area at coronavirus.mst.edu/vaccinations.
In addition to vaccination, our facial covering policy and daily screening for symptoms add a layer of protection to ensure a healthy start to our semester. I urge you to check yourself daily for COVID-19 symptoms. If you are ill, please get tested immediately and do not come to campus.
I am grateful for all you have done to adjust to current circumstances. I too am eager to return to a more "normal" university experience. We are working toward that goal and I thank you for your help.
Let's get off to a safe and healthy start! I look forward to seeing you around campus and wish everyone a great first day of classes.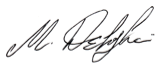 Mo Dehghani
Chancellor