Welcome, President-designate Choi!
You are invited to meet the new leader of the University of Missouri System. President-designate Dr. Mun Choi, the 24th president of the university system, will visit campus on Wednesday, Nov. 30. He will hold an open forum at 9 a.m. in Leach Theatre. I hope you are able to attend!
Dr. Choi currently serves as provost and executive vice president at the University of Connecticut. As an undergraduate, he studied at the University of Illinois at Urbana-Champaign, and he holds graduate degrees in mechanical and aerospace engineering from Princeton University.
Dr. Choi will officially begin his duties on March 1. Click here to watch his announcement earlier this month in Jefferson City.
Thanksgiving is one of my favorite holidays, and I make a point to take time to reflect on all the many blessings given to my family and me. As I finish my fifth year at the university, I am thankful to all those who have helped to make this university successful, from our engaged students and alumni to our dedicated staff and faculty to my trusted cabinet and exemplary office staff. My family and I have been shown so much kindness as we've made Rolla our home, and I am motivated every day to lead and represent this university to the best of my ability.
Videographer Terry Barner has put together a wonderful video called "Grade A Gratitude," which highlights 10 students who share their stories about individuals who have made a difference in their lives. I am proud of these students and their mentors who help make this university so special. Check out www.mst.edu next week to see the video.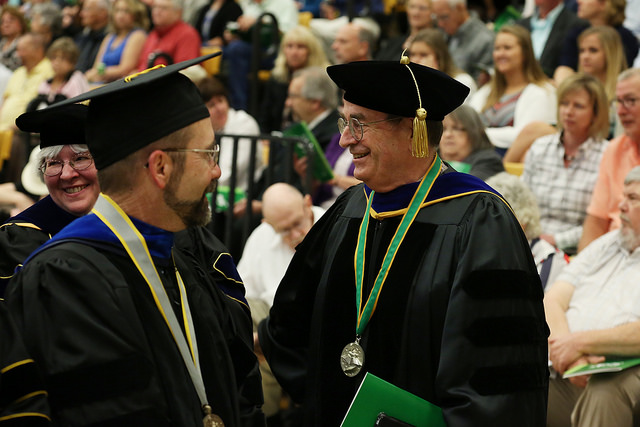 My warmest congratulations to all students who will soon become alumni! Our commencement ceremonies will be held on Saturday, Dec. 17. I'm pleased to share that Curator and S&T alumus Tom Voss will be our featured speaker this year.
Curator Voss earned his bachelor's degree in electrical engineering from S&T in 1969 and is the former chief executive of Ameren, a Fortune 500 company. He is now chair of Smart Wires, a global grid optimization company based in the San Francisco Bay Area.
This year we will also recognize our newest Curators' Distinguished Professors: Dr. Thomas Vojta, Curators' Distinguished Professor of Physics; Dr. Muthanna Al-Dahhan, Curators' Distinguished Professor of Chemical and Biochemical Engineering; and Dr. Xiaoping Du, Curators' Distinguished Teaching Professor of Mechanical and Aerospace Engineering. These faculty members are helping to advance excellence at Missouri S&T through the scholarship and teaching. Huzzah!
Have brunch, spread cheer
Missouri S&T faculty and staff are invited to celebrate the holidays with refreshments, piano music, caroling and great company at the Chancellor's Holiday Brunch 9 a.m.-noon Tuesday, Dec. 6, at the Hasselmann Alumni House. The elves in the "Merry Miners Workshop" need your help to make the holidays brighter for those less fortunate. Guests are encouraged to bring an unwrapped toy or a canned food donation to give to those in need within our community.
To all Miners near and far, I hope this newsletter finds you warm and surrounded by loved ones. Happy Thanksgiving, and good luck with the rest of the semester!
Cheryl B. Schrader, Ph.D.
Chancellor
@GermJuggler took his #buildingwithbiology program to @bgcjcmo, writes @fultonsun. Keep inspiring the youth, Dave!
I'm excited to announce the first two to sign w/ Missouri S&T Mens Golf Lenny Urbas from Colorado & Jake Luett from Iowa @minersports
Thank you to everyone that contributed to crowdfunding! We exceeded our goal and thanks to you we will be going to be going back to Canada!